---
Check out these books by Dave Whitaker available through DavesMusicDatabase.com or Amazon.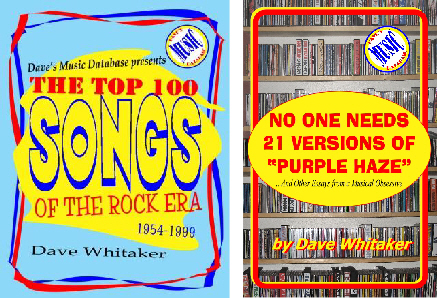 Also check the Dave's Music Database Facebook page for daily music-related posts.
---
This week marked an important milestone in music history in the rock era. On January 12, 1959, Berry Gordy launched Tamla Records after borrowing $800 from his relatives. The label evolved into Motown.
In celebration of the historic event, the DMDB presents this list of the top 100 songs in the history of Motown. The list was generated by looking at song's status in Dave's Music Database, which is determined by rankings on best-of lists, awards, chart appearances, sales, and airplay. Then appearances on Motown specific lists and CD compilations is figured into the mix as well. Here are the results:
Marvin Gaye
1. Marvin Gaye "I Heard It Through the Grapevine" (1968)
2. Stevie Wonder "Superstition" (1972)
3. Marvin Gaye "What's Going On" (1971)
4. The Temptations "My Girl" (1964)
5. Four Tops "Reach Out (I'll Be There)" (1966)
6. Lionel Richie & Diana Ross "Endless Love" (1981)
7. Martha & the Vandellas "Dancing in the Street" (1964)
8. Boyz II Men "I'll Make Love to You" (1994)
9. The Jackson 5 "I Want You Back" (1969)
10. The Miracles "The Tracks of My Tears" (1965)
Stevie Wonder
11. Boyz II Men "End of the Road" (1992)
12. The Jackson 5 "I'll Be There" (1970)
13. Four Tops "I Can't Help Myself (Sugar Pie Honey Bunch)" (1965)
14. Marvin Gaye "Let's Get It On" (1973)
15. Stevie Wonder "I Just Called to Say I Love You" (1984)
16. The Supremes "Stop! In the Name of Love" (1965)
17. The Supremes "You Can't Hurry Love" (1966)
18. Stevie Wonder "You Are the Sunshine of My Life" (1973)
19. The Supremes "Baby Love" (1964)
20. The Temptations "Just My Imagination Running Away with Me" (1971)
The Temptations
21. The Supremes "Where Did Our Love Go" (1964)
22. The Temptations "Papa Was a Rolling Stone" (1972)
23. Lionel Richie "All Night Long (All Night)" (1983)
24. The Commodores "Three Times a Lady" (1978)
25. Diana Ross "Upside Down" (1980)
26. The Miracles "The Tears of a Clown" (1970)
27. The Marvelettes "Please Mr. Postman" (1961)
28. The Temptations "Ain't Too Proud to Beg" (1966)
29. Lionel Richie "Say You, Say Me" (1985)
30. Lionel Richie "Hello" (1984)
The Supremes
31. Mary Wells "My Guy" (1964)
32. Martha & the Vandellas "Heat Wave" (1963)
33. Diana Ross "Ain't No Mountain High Enough" (1970)
34. The Jackson 5 "ABC" (1970)
35. Edwin Starr "War" (1970)
36. Thelma Houston "Don't Leave Me This Way" (1976)
37. The Supremes "You Keep Me Hangin' On" 1966)
38. The Contours "Do You Love Me" (1962)
39. Little Stevie Wonder "Fingertips (Part 2)" (1963)
40. The Miracles "Shop Around" (1960)
The Miracles
41. The Miracles "You've Really Got a Hold on Me" (1962)
42. The Temptations "I Can't Get Next to You" (1969)
43. Rick James "Super Freak" (1981)
44. Junior Walker & the All Stars "Shotgun" (1965)
45. Stevie Wonder "Uptight (Everything's Alright)" (1965)
46. Gladys Knight & the Pips "I Heard It Through the Grapevine" (1967)
47. Marvin Gaye & Tammi Terrell "Ain't No Mountain High Enough" (1967)
48. The Supremes "Someday We'll Be Together" (1969)
49. Stevie Wonder "Signed, Sealed, Delivered (I'm Yours)" (1970)
50. Jimmy Ruffin "What Becomes of the Broken Hearted" (1966)
The Jackson 5
51. Stevie Wonder "My Cherie Amour" (1969)
52. Lionel Richie "Truly" (1982)
53. Marvin Gaye "Mercy Mercy Me (The Ecology Song)" (1971)
54. Stevie Wonder "For Once in My Life" (1968)
55. Diana Ross "Love Hangover" (1976)
56. Boyz II Men "On Bended Knee" (1994)
57. Martha & the Vandellas "Nowhere to Run" (1965)
58. Diana Ross "Touch Me in the Morning" (1973)
59. Four Topss "Baby I Need Your Loving" (1964)
60. The Supremes "I Hear a Symphony" (1965)
Lionel Richie
61. The Temptations "Ball of Confusion" (1970)
62. Four Tops "Bernadette" (1967)
63. The Supremes "Love Child" (1968)
64. Eddie Kendricks "Keep on Truckin' (Part 1)" (1973)
65. Stevie Wonder "Living for the City" (1973)
66. The Miracles "Ooo Baby Baby" (1965)
67. Gladys Knight & the Pips "Neither One of Us Wants to Be the First to Say Goodbye" (1973)
68. Barrett Strong "Money (That's What I Want)" (1960)
69. The Supremes "Come See about Me" (1964)
70. The Commodores "Night Shift" (1985)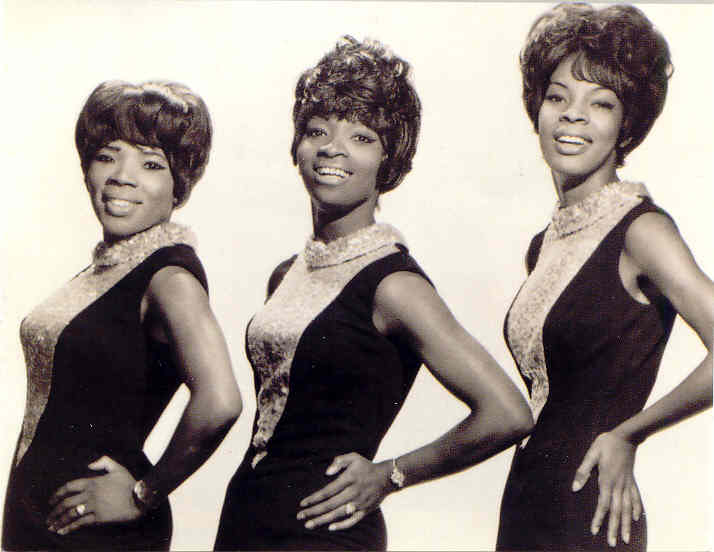 Martha & the Vandellas
71. The Jackson 5 "The Love You Save" (1970)
72. The Temptations "I Wish It Would Rain" (1968)
73. The Supremes with The Temptations "I'm Gonna Make You Love Me" (1968)
74. Rockwell with Michael Jackson "Somebody's Watching Me" (1984)
75. Stevie Wonder "Higher Ground" (1973)
76. Stevie Wonder "I Was Made to Love Her" (1967)
77. Smokey Robinson "Cruisin'" (1979)
78. The Commodores "Still" (1979)
79. The Commodores "Easy" (1977)
80. Stevie Wonder "Sir Duke" (1977)
Four Tops
81. Marvin Gaye "How Sweet It Is to Be Loved by You" (1964)
82. The Miracles "I Second That Emotion" (1967)
83. The Isley Brothers "This Old Heart of Mine" (1966)
84. The Temptations "The Way You Do the Things You Do" (1964)
85. Stevie Wonder "I Wish" (1976)
86. Four Tops "Standing in the Shadows of Love" (1966)
87. The Temptations "Cloud Nine" (1968)
88. The Supremes "Back in My Arms Again" (1965)
89. Marvin Gaye "Inner City Blues (Make Me Wanna Holler)" (1971)
90. The Commodores "Brick House" (1977)
Boyz II Men
91. Marvin Gaye with Kim Weston "It Takes Two" (1966)
92. Smokey Robinson "Being with You" (1981)
93. Michael Jackson "Ben" (1972)
94. Martha & the Vandellas "Jimmy Mack" (1967)
95. Chamillionaire with Krayzie Bone "Ridin'" (2006)
96. The Undisputed Truth "Smiling Faces Sometimes" (1971)
97. Marvin Gaye "Got to Give It Up (Part 1)" (1977)
98. Boyz II Men "In the Still of the Nite (I'll Remember)" (1992)
99. Stevie Wonder "Part-Time Lover" (1985)
100. The Miracles "Going to a Go-Go" (1965)
<!—video: I Heard It Through the Grapevine -->
---
Resources and Related Links:
---